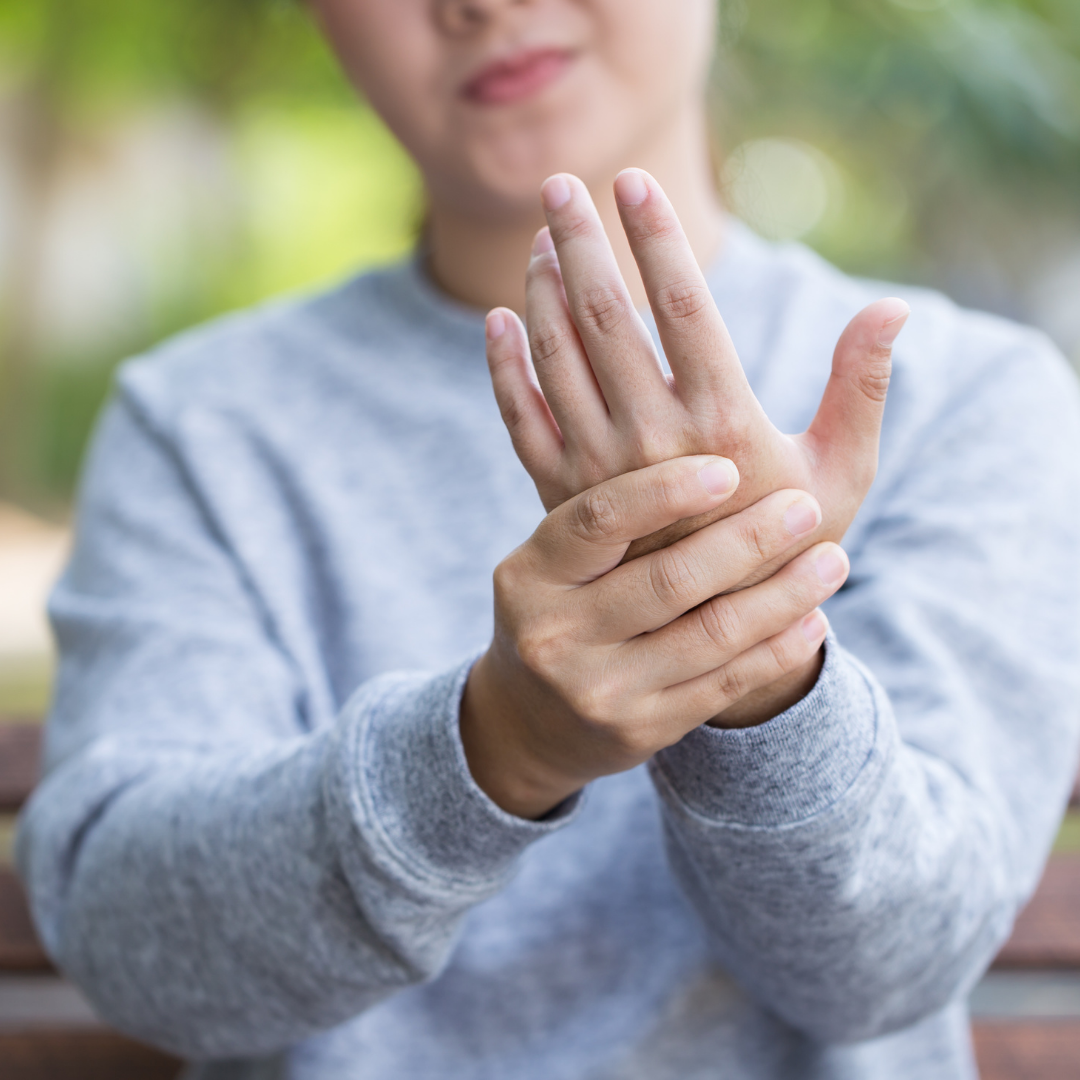 07 May

Occupational Therapy for Hand Injuries
---
[contact-form-7 id="af1e8e6″ title="Contact form 1″]
---
The hands are a complex part of the body made up of tiny bones, tendons, nerves, muscles, and veins. Our hands provide us with the dexterity and strength necessary to complete tasks at home and work. We use our hands for almost everything we do, so an injury can be stressful and hard to manage. At East End Occupational Therapy, we offer hand therapy to help patients recover from their injuries. Continue reading to learn how occupational therapy can help you after your injury. 
Occupational Therapy for Hand Injuries
Your hands play a vital role in almost all of the activities you do on a daily basis. Because of this, the hands are susceptible to injury. Your hands can become injured for a variety of reasons. You may have been affected by trauma, an accident, arthritis, or have undergone surgery. Some of the common problems that we help with include fractures, arthritis, trigger fingers, carpal tunnel, and weakness. After an injury, you may need occupational therapy. Occupational therapy is a form of therapy that is helpful for people recovering from injury more specifically geared towards helping them return to their work.
At East End Occupational Therapy, we provide hand therapy to treat injuries affecting the hands and upper extremities. Hand therapy helps patients return to productive lifestyles and shows them how to perform their daily tasks despite physical setbacks. Here are some of the ways that hand therapists can help:
Soften scars.
Treat and monitor wounds or lacerations.
Reduce scar tissue or adhesions between the skin and tendons.
Reduce swelling and inflammation.
Decrease pain and improve dexterity.
Teach patients with amputations to be more functional.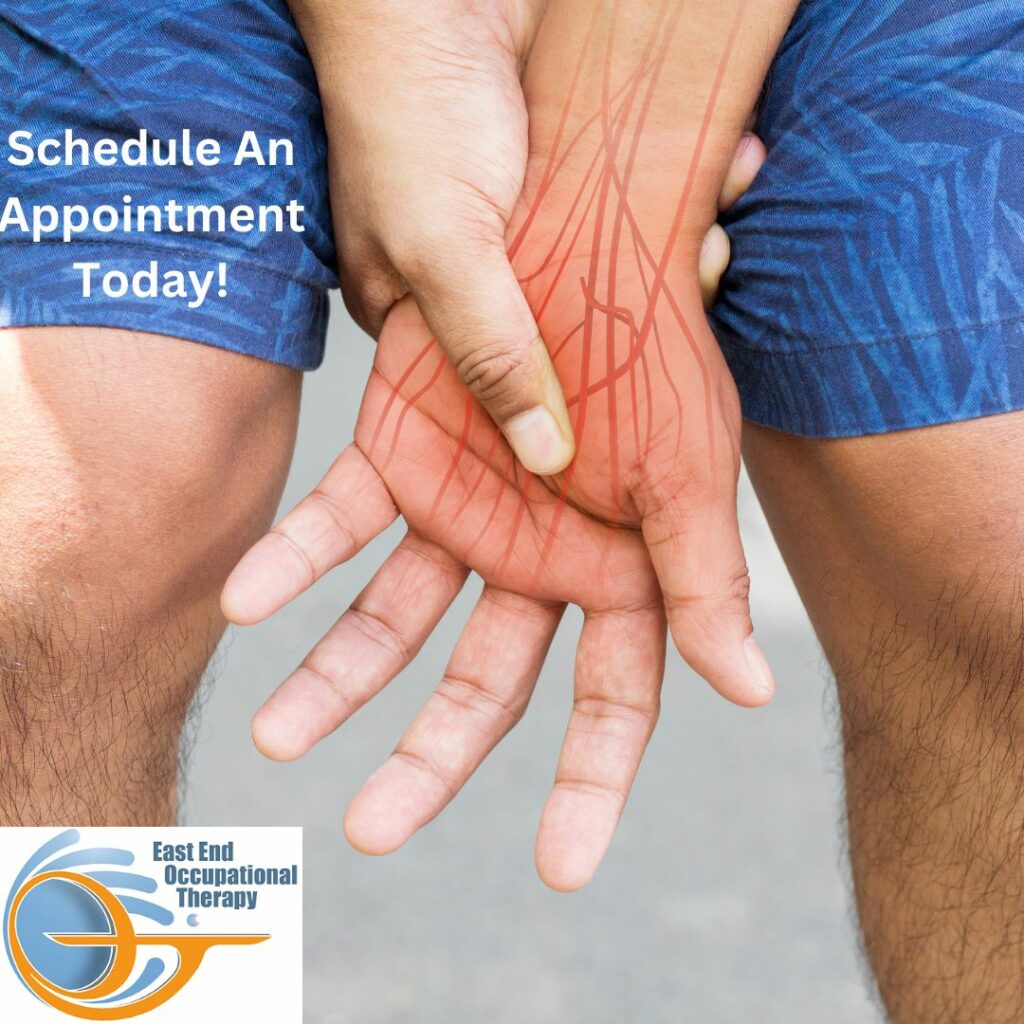 Treating Hand Injuries
When you injure your hand, it can be difficult to do something as simple as buttoning your shirt. Hand therapy can help you accomplish that again. Hand therapy often starts with an evaluation where our team will learn about your condition and your goals. After carefully reviewing your history, we will perform a detailed exam to establish your baseline function. We provide our patients with customized treatment plans with set goals and timelines to help them reach their desired function.
Hand therapy will involve different treatments, including assignments that should be completed at home. It is essential to stay on top of your therapy, as a lack of effort may prolong recovery. Occupational hand therapy can provide the following benefits:
Conservative treatment without surgery.
Decreased recent or chronic pain
Reduced pain from nerve problems and restored sensation after a nerve injury.
Custom splinting to protect the injury and prevent stiffness.
It helps patients learn to complete everyday tasks again and gets them back to work or sports.
Helps with recovery after surgery, including wound management, scar treatment, preventing infection, and reducing swelling.
If you have never received this kind of treatment before, you may be wondering how a hand therapist can help you improve your function. While treatments will vary between patients, hand therapy will typically consist of exercises. These exercises can include active and passive finger and hand exercises. During active exercises, the patients will use their own muscle strength. With passive exercises, your hand therapist will move the hand without the patient using their own muscles. If you are interested in trying this kind of therapy, you can trust that you are in good hands with our team. We will customize your treatment to best fit your current lifestyle needs.
Contact Us
A hand injury does not have to take over your entire life. At East End Occupational Therapy, our dedicated team of specialized hand therapists will help you find a solution to your problem and put you on a successful path towards recovery. To learn more about occupational therapy or to schedule an appointment, contact our team today.